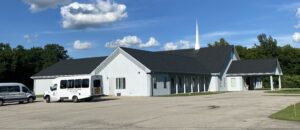 Our Mission: The Wilmington Church of God is a part of a world-wide Christian movement known as the Church of God (churchofgod.org). This movement has been impacting hearts and lives, since its inception, well over 100 years ago.
The Wilmington Church of God was planted in 1973 under the direction of Pastor Elizabeth Looney. Ever since then, The Wilmington Church of God has been a Christ-centered, Spirit-filled, Disciple-making, and Deep-Loving church family.
Our Vision: At the Wilmington Church of God our vision is simple! We firmly believe that every person who connects with our church family should be:
Connected to God (John 8:36): We believe this happens through salvation, water baptism, and a daily prayer life.
Connected to God's Word (Matthew 28:18-20): We believe this happens through daily bible reading, study, and our many discipleship opportunities
Connected to God's People (Ephesians 2:19): We believe this happens through church attendance, fellowship, and serving
Connected to God's Mission (1 Timothy 1:12): We believe this happens through giving, reaching out, and fulfilling Gods plan for your life