Bishop Rich and Angel Boll

have served as the Lead Pastors of the Wilmington Church of God since May 2019. Prior to moving to Wilmington The Bolls have pastored in Cleveland, Ohio for 15 years and Perry, Ohio for 2 years, as well as several other positions over the last 28 years. Rich and Angel have been married for 27 years and have 3 amazing children. Tyler 25 who is married to Ashley, Savannah 22 a nursing student at Ohio University, and Emma Grace 18. This year has brought the newest Boll: grandson Judah!
Pastor Rich has served as a Youth Pastor, Evangelist, and Lead Pastor. He has served on the Ohio Church of God Youth and Development Board and currently serves as the Chairman of the Ohio Church of God State Council. Pastor Boll has preached in several camp meetings and youth camps across the country. He was privileged to preach a Church of God Midwest Winterfest, a highlight of his ministry and a "full circle" moment as Winterfest is where he surrendered his life to Christ. Pastor Boll is an avid Notre Dame fan and loves to buy and sell vintage items.
Pastor Angel currently serves as the Office Manger here at Wilmington Church of God as well as overseeing the Women's and Worship Ministries. She has previously served on the Hannah's Home board (Mentor, OH) and currently serves on the Ohio Church of God Women's Board. She has a passion for teaching and speaking life and has preached and taught several conferences/events across the state as well as in Roatan, Honduras.
Associate/Senior Adult Pastor
Pastor Ginger Pendell has been a member of the Wilmington Church of God for 44 years. She is married to Larry Pendell. They have 3 children and 7 grandchildren. She has been a resident of Clinton County her entire life.
Pastor Ginger has held multiple positions in the Wilmington Church of God including music minister, Sunday school teacher, and has overseen the youth plays and youth choir for multiple years. She participates in outreach ministries such as visitation to the sick and helps to generate donations for such programs as Cardboard City, New Life Clinic, and the Clinton County Women's Center.
She has a passion and desires to reach the hurting and overlooked. Her Favorite scripture is Romans 10:14 "But how can they call on him to save them unless they believe in him? And how can they believe in him if they have never heard about him? And how can they hear about him unless someone tells them?"
Pastor Bill and Andrea Davis
Young Adult Pastors/Deacon of Discipleship
Rev. Bill and Andrea Davis are longtime members of the Wilmington Church of God. They have served in many capacities over the years including Children's Pastor, Youth Pastor, VBS Coordinators, and Sunday School teachers. Currently they are the Ignite Young Adult Ministry leaders and Deacons of Discipleship.
Bill and Andrea have two adult sons Kyle (Tyne) and Chad. Kyle and Tyne are expecting a son in Nov 2021- Bill and Andrea's first grandchild!
Pastor Latasha and Andrew Ruddle
Latasha has a passion to minister to kids and their families. In 2020 she answered the call on her life to become the Children's Pastor here at Wilmington COG. Andrew and her kids make it a family affair as they work together each week to prepare for the kids activities.
Latasha is married to Andrew and they have four children: Brylin, Braxton, Brystl, and Noah.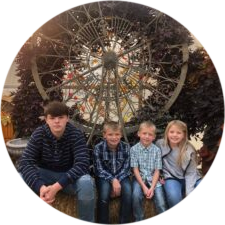 Barry Wisecup has been a member of the Wilmington Church of God for 15 years. He has been married to Denise for 46 years and they have 3 children and 13 grandchildren. Bro. Barry is a lifelong resident of Wilmington, Ohio and graduated from Wilmington Highschool in 1972. He retired after 30 years of working for the Wilmington Water Department. Barry has a heart for service even leading a team of people to load and ship trucks to Mississippi after Hurricane Katrina.
Barry fills many roles at the Wilmington Church of God. He currently serves as our Coordinator of Maintenance where he oversees the care of all our facilities at the Wilmington Church of God. He serves in our food outreach and any other place he can lend a helping hand. He is also known as the "Candy Man" because he ALWAYS has a pocket full of smarties that he always blesses kids with at the church.
Damian and Dana Tomlinson
Beginning in 2022 Damian and Dana Tomlinson have been appointed as Youth Pastors here at Wilmington Church of God.
They are burdened for the teens and all the issues they face. Damian has an amazing testimony of finding Christ and understands first hand some of the issues youth encounter. Dana's secular job takes her directly into the culture of families today and its her desire to see healing and wholeness come to teens and their families.
Dana and Damian married in 2020 and have two children Wyatt and Neil. Tomlinson baby #3 is on the way!